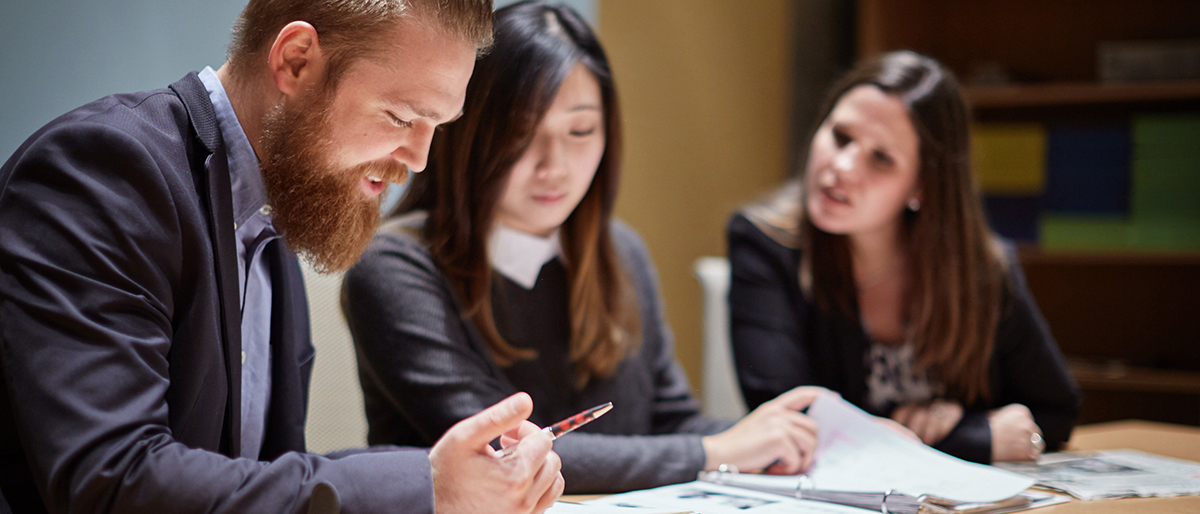 Education Beyond a Degree
Whether you're looking to further your education, considering a job change or interested in career advancement, our program can help you realize your full potential with our small classes, outstanding faculty and strong academic reputation. Focused on developing business leaders, our small class sizes allow personalized attention and close interaction with faculty.
Embracing the Jesuit ideal of "educating the whole person," our curriculum is designed to make you an engaged participant — giving you the ability to tailor your degree to meet your personal needs and professional aspirations. In addition to core business skills, graduate students receive leadership training, develop communication skills and gain practice in case analysis and ethical reasoning.
Grow as a person, not just as a professional. Learn from professors who care about your success as an individual and as a leader. Gain new connections that turn into lifelong friendships. Students earn more than an MBA degree at LMU; they gain a valuable and intimate experience that plays a large role in paving a successful career path.
Ranked 17th in Entrepreneurship and 26th in Marketing by U.S. News & World Report, the LMU MBA Program is at the forefront of providing students with the best graduate-level career advancement education in the nation.
Program Delivery and Schedule
The MBA program is designed to be completed in 2 years on a part-time basis; admission is offered for fall and spring enrollment. During your first year, you complete the MBA core courses, and during the second year, you focus on your area of emphasis, elective courses and global study. Each student participates in an orientation program, 2 workshops and an international trip.
While approximately 90 percent of LMU MBA students choose to complete the program in 2 years, students requiring more flexibility have the option to extend the program to 3 years by taking a reduced course load each semester.
Classes are offered Monday to Thursday starting at 6:30 p.m. to provide students with the ability to balance work and school. MBA core classes consist of 20–30 students while elective/emphasis courses contain 8–10 students.
Our Southern California Campus
Los Angeles is the creative capital of the world and a global engine of innovation and invention. Aerospace, entertainment, technology, fashion, international finance, biotechnology, manufacturing, marketing — it's all here in the 3rd largest metropolitan economy in the world. Our beautiful Westchester campus is surrounded by more than 500 technology startups including some of the nation's most exciting and creative companies. This dynamic region is the 3rd largest startup ecosystem in the U.S. and a thriving hub for synergistic learning.

By taking advantage of our location, the College of Business Administration experience is defined by real-world learning opportunities from across our incredible city — internships, industry mentors, global conferences, networking events and more. We cultivate close relationships with L.A. business leaders who sit on advisory boards, serve as entrepreneurs-in-residence, give feedback on student-developed marketing campaigns and more.
Jesuit MBA Transfer Network
If you need to transfer or relocate to another U.S. city before finishing our program, your degree may be completed at one of over 30 partner schools through the Jesuit MBA Transfer Network. This partnership with some of the most revered business schools in the country makes it possible for students to accept promotions or relocate while staying on track with their studies. Certain requirements must be met to qualify.